Organizations of all sorts are looking for ways to make it easier for their customers to pay. Well, the good news is that there is a solution and it comes in the form of the mobile phone.
Companies spend huge amounts of time and resources chasing late payments. In most cases, though, it's not because the customer is can't pay or is trying to avoid paying; instead things get lost in the busy to and fro that is our lives. The truth is that they would welcome a payment system which fits in with their lives.
Email Reminders Don't Work
Email reminders are common, but these are not much more effective than paper letters. Many of them are simply directed to the spam folders, meaning customers never get to see them. Those which do reach the inbox are quickly buried beneath the daily deluge of emails which come and go. Before long they are replaced by other, more urgent issues, and can quickly descend to the back of your customers' minds.
Mobile Phone Text Reminders
Mobile phones represent an obvious answer. We are more likely to spend time away from our homes than ever before. Getting in touch with us in the places where we live has never been more difficult. On the other hand, a majority of people now own a mobile phone, meaning they can be contacted quickly and simply with a simple text.
Many companies have started texting reminders to their customers to pay their bills. This allows them to use a link on their smartphone which quickly takes them to a secure site and allows them to pay their bills as soon as possible. But now there is the option of taking this a step further and allowing them to pay simply by sending a text.
How it Works
The idea is that you send a text message reminding the custome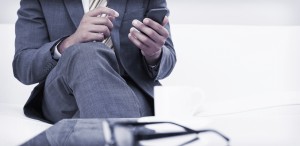 r of their bill. They can then simply get back to you and clear the bill by texting the word 'pay'. All you need is for your customer to give you their mobile number and you can then text them the reminder – it really is that simple.
There are many different companies who can use this. As well as the utility companies, we find it's particularly popular with not for profit organisations. Rather than having to go through extensive administrating and form filling to set up direct debits, potential donors can simply text their payment with a few clicks. Indeed, any company can benefit from the barriers being removed to sending payments.
The Technology
We've spent years developing sophisticated technologies which can integrate seamlessly with mobile platforms and offer a swift, secure way to process the payment. The great thing is that the customer is physically involved with the payment – it is they who have to be there and physically send the text to process the payment. As such it makes the entire process simpler, more secure and comfortable for everyone to use. It should reduce the amount of time companies spend chasing payments, and also make the entire process a lot simpler for their customers.