Is it a good thing that hospitals are introducing hospital pricing transparency? For most consumers, yes it is. Now that healthcare has started to come with high deductibles, consumers' demand for hospital pricing transparency has understandably gone up. After all, consumers want to know what they will be paying.
Consumers want to know the cost of individual healthcare procedures.
Of course consumers prefer to know precisely what each consultation, test, and treatment costs when they go to the doctor. Gone are the days of low co-pays and not even questioning the price of a medical treatment. Healthcare can be very expensive, and consumers these days don't want to be told the price only after they've received care. They need at least an estimate beforehand, something that, in the past, was rarely given. Additionally, consumers want more convenient payment options and opportunities.
Better payment options and opportunities are requested, even expected.
Instead of having no choice of when and how to pay their medical bills, consumers these days are insisting that they have better options for payment. They want to be able to pay before, during or after the care, instead of the moment the hospital or clinic decides for them.
By the same token, when they pay, they want to be able to conveniently choose their form of payment whether it be debit, credit, cash, etc. Consumers say they shouldn't be limited when it comes to how they pay since they are paying what's asked of them. Moreover they should be able to choose payment cycles that suit them, whether they be automatic and reoccurring or not.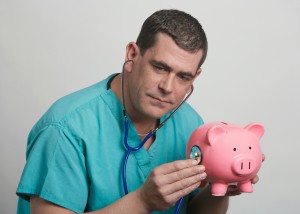 The solution for improved healthcare payment processing is in companies like Payment Savvy.
Because consumers are expecting better service from the billing divisions of hospitals, the healthcare industry is looking to companies like Payment Savvy for healthcare payment processing solutions. The right processor can make it much easier for patients to pay, and in turn means that health professionals also benefit. Satisfaction with the options of payment as well as the smoothness of the experience while paying make a big difference in the amount of bills paid on time by consumers.
Positive payment experiences create loyal customers out of patients.
Patients who understand the billing of their hospital stay are much more likely to be content with the care and service they received. And therefore, if they require another hospital visit they will be comfortable returning. Moreover, they are likely to be more cooperative and pleasant patients. So besides offering a competent payment processing system and ample opportunity to submit payment, how can hospitals make sure their patients leave happy with the billing experience?
Patient consultation and financial education keeps patients informed and satisfied.
Apart from being upfront about pricing at the registration desk, hospital pricing transparency means giving information about the cost of treatment before, after and during their stay — at all stages of care. From their pre-admission to their follow-up, communication about the patients' billing should be ongoing and clear. This leaves patients well informed, so there are no surprises about what, when and how they pay.
Hospital pricing transparency is exactly what consumers are looking for, especially for it's clarity in costs, convenience of payment and meaningful communication between healthcare workers and patients. Let Payment Savvy help achieve this goal with its better payment processing solutions.