One of the biggest frustrations for any business is delays in getting paid. The process of getting money from your clients, and into your bank account can be arduous, time consuming and in some cases can even represent a significant cost to the success of your business. The good news is that there are options to make the process quicker.
From Old To New
The speed with which you get paid often depends on the method of the transaction. Although we're now becoming used to instant and secure online payments, there are still plenty of people who prefer the old ways. Although the humble cheque is predicted to become an endangered species in the years to come, there are still people out there who still like it. As with those who clung on to vinyl against the advance CD's these people refuse to abandon a method they feel comfortable with.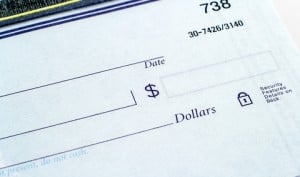 That's all very well for them, but for you it can take several days waiting for the cheque to arrive through the mail and involves a time consuming trip to the bank. If you can find a way to speed the process up, you'll improve your cash flow, ease the pressure on your funds and free up a lot of spare time. Hours that you used to spend shuttling to and from the bank can now be used generating more sales and business.
New Payment Processing Technology
The solution lies in new software to convert cheques and allow ACH payments without any of the hassle and fuss you might have experienced in the past. Using the latest payment processing technologies you can have customers enter the details of their cheque electronically which can then be swiftly processed. It helps you collect payments in a more timely manner and reduce the amount of time you spend chasing bad debts.
Choosing the Right Provider
The trouble is, although there are plenty of providers out there at the moment, there is still a huge amount of variation in the quality of services on offer. Many providers fall down on simple things such as good customer service, clear and concise information and flexible systems which work with the requirements of their clients in mind. Worse still, for all the high profile information about security risks in online payment collection over the last few years, some companies are still lagging behind. There are plenty of instances in which data has been lost or gone missing.
There will therefore be a premium on those companies that can guarantee a reliable and secure way to make payments. This means more than just being secure, but being seen to be secure. That will reassure the public and encourage them to buy with confidence.
We have worked hard to build our software with the very latest technologies. These provide fast, efficient and secure transactions as and when you need them. To find out more about these check our section dedicated to ACH payments.